Isobel was employed within the NHS for over 40 years in the roles of Nurse, Midwife and Health Visitor.
Prior to retiring in 2017, she held the role of Directorate Nurse for Children's Services which encompassed leading nursing across all of the children's health services within Hywel Dda Local Health Board, spanning hospital and community care for all ages.  
During her professional career, she has also worked voluntarily within the Community Practitioner for Health Visiting Association as a local representative and also represented her profession at strategic and national levels. Within her personal life, she has volunteered as a Parent Governor for Greenhill School, Tenby between 1997 to 2004. 
Isobel is widowed with three children and two grandchildren.
A Public Relations and Communications professional with more than 20 years' experience, for the last six years Anne has been part of the fundraising team at Saint Francis Hospice in Romford, Essex, one of the UK's largest adult hospices. She is currently responsible for more than £2 million annual income, focussing on major gifts and legacies. 
A native of Pembroke Dock, Anne visits family in Pembrokeshire regularly and has been a Trustee of Sandy Bear Children's Bereavement Charity for a year.
Andrea began her career with Alliance & Leicester, progressing from teller to mortgage advisor whilst also gaining professional CMAP qualifications. After 26 years, she joined John Francis Estate Agent as their Mortgage Consultant and covered their 6 Pembrokeshire Offices before retiring in 2015.
Tragically, in 1983 Andrea's son died of a cot death at the age of 10 weeks. Her husband, herself and young daughter were left bereft. The family was supported by their extended family and close network of friends who came together during this terrible time.
At that time in Pembrokeshire, the service to support children who had been bereaved was not available for her daughter. Andrea is passionate about ensuring that the support is in place for other families who experience the death of a child. 
Andrea was born in Pembrokeshire and is married with two grown up children.
Caroline had a successful career in the NHS spanning 37 years. She was Director of Nursing, Quality and Patient Safety for Hywel Dda University Health Board before retiring in July 2016. Prior to this, she was Director of Nursing at Hywel Dda NHS Trust and Acting CEO of Pembrokeshire and Derwen NHS Trust. 
Caroline received an MBE in July 2017 for services to the nursing profession and NHS in Wales.
Caroline is the Chair of Pembrokeshire College Corporation Board having been a Governor since 2016 and is also the Link Governor for Safeguarding.
Caroline grew up in Pembrokeshire, attending Greenhill School in Tenby. She is married with two grown up married sons.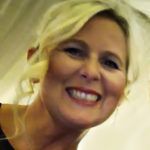 Nina joined the Trustee Board as she and her family are past Sandy Bear service users following the tragic loss of her husband and father of their two sons. 
Nina has been a longstanding campaigner for Sandy Bear, gaining 4,000 signatures in a petition when the service was decommissioned due to lack of funding. She was determined along with the other trustees, that children and families have access to the same level of support that she and her sons experienced during the most challenging of times. 
Through her role at Sandy Bear, Nina shares her experience of being a mum with children who have been bereaved.
Janine has worked for Hywel Dda Local Heath Board for the past 17 years, enjoying a successful career and now in post as a Community Nursery Nurse. She supports the Health Visiting Teams across Pembrokeshire. As part of her current role, Janine supports children and their families with any issues that they may have – particularly around developmental issues, emotional health and wellbeing, behaviour and parenting. She also has lots of experience of working with children with additional learning needs.
During her time as a nursery nurse, Janine worked with lots of bereaved children, young people and families. She has been an active member and volunteer with Sandy Bear since 2006. 
When she was an infant, Janine lost her mother. She strongly believes that others can benefit from her life experience of losing a parent at a very young age and wants to share this experience with those in need.
In her spare time, Janine is an active member of the local Amateur Dramatics Society and enjoys baking, walking and travelling with her husband.
John is a 68-year-old retired nurse and is married with grown up children.  
John's career has included Adult and Mental Health Nursing as a senior practitioner, general manager and nurse consultant (which included managing CAMHS services). 
John has for many years run a training and consultancy company working with government departments, private sector and not-for-profit organisations. Programmes include Trauma Exposure, Resilience and Wellbeing, Mental Health Awareness, Supervision and Human Rights.
Sam is married with two small children and is a specialised 1:1 Learning Support Assistant to a visually impaired child. She is also a qualified Braillist.  
Sam's passion for Sandy Bear began with volunteering 6 years ago, when she was studying counselling (Level 3) at Pembrokeshire College. Sam has volunteered in children and teenage bereavement support sessions with Sandy Bear. Sam has also worked with Karen in support of 2 Wish Upon A Star. 
Sam was so immensely proud of the support that Sandy Bear deliver to children, young people and families that she 'didn't think twice' about becoming a trustee.
Karen has been a qualified social worker for almost 20 years and holds both the Post Qualifying Award and the Advanced Award in Social Work. Karen also holds a Master's Degree in Applied Social Research (Distinction) and is currently undertaking a PhD in Child and Families at Swansea University.  
Karen has spent most of her professional career working with children and families and was part of the first Children's Commissioner for Wales team. She is a strong advocate for Children's Rights, is passionate about the healing and therapeutic value of play and is committed to safeguarding the vulnerable.  
Since retiring from her Service Manager role with the NSPCC in December 2018, Karen continues to undertake independent social work and facilitate training. She also sits on the National Safeguarding Board for Wales.  
Karen moved to Pembrokeshire in 2015 and lives with her artist husband. Karen has four children and a stepson, and her daughter Abigail was just 22 months old when she died after an operation to remove a brain tumour. It was witnessing the experience of Abigail's death on her other children that inspired Karen to become involved with Sandy Bear.  
Karen feels that supporting children in their grief, sadness and loss is hugely important work and is proud to be a Trustee in a charity which can make a positive difference to children's lives.
Andrew spent over 30 years in consulting and industry, latterly as a business leader with UK, European and Global roles in manufacturing businesses. He left in 2018 to pursue a Master's degree in Psychology and take life in a different direction. 
Andrew and his partner moved to beautiful Gower in 2019, where he is currently establishing a charity to support disadvantaged children and their families locally.
Andrew is an average musician, novice gardener, keen fell walker and enthusiastic traveller as well as proud father of two grown-up children.
Karen is, by her own accounts, a Labrador obsessive, keen home-cook and science-fiction fan!
She is the Chief Executive Officer of Pembrokeshire People First, the member-lead charity for people with learning difficulties and/or autism.
She has a grown-up daughter, Maya, pictured here. Tragically, Karen's son died in 2013, aged just 23 years old. Her husband passed away in 2006.
Through her own experiences of bereavement, Karen joined the Sandy Bear Board to help children and young people through their grief journey.