Unchecked bereavement can impact on every aspect of a young life, affecting physical / mental health and well-being.
In 1996, following an identified need by School Nursing and Child and Adolescent Mental Health Services (CAMHS) – NHS, a Sandy Bear child bereavement service was established by those professionals in their own time, working as volunteers. The service was dependent on the work of those volunteers. 
A formal application was made for Welsh Government grant support via the Local Authority which enabled the Health Board to employ two dedicated children's professionals, allowing the service to become more structured. This helped the service develop further and demand for it increased. 
By 2006, approximately 60 children were referred to the service annually, by 2009 this figure had reached 158.
In 2016, following a review of grant funded children's services in Pembrokeshire, Sandy Bear was decommissioned due to government funding becoming more limited.
However, the service was still very much needed! Before decommissioning, the Sandy Bear service had supported a significant number of children and their families through some of the most difficult times. Knowing how much the service was needed, a dedicated group of children's health professionals, past users and interested parties met to discuss the next steps.
In 2017, a trustee board became established and founded an unincorporated charity with our status as a registered company coming into place in 2018, followed by registration with the Charity Commission in 2019. A key milestone was achieved on the 10th June 2018, two years after grant support for Sandy Bear stopped. We held our first therapeutic day as a newly formed charity at Scolton Manor and started accepting referrals in the October of that year.
We were supported with accommodation provided by Pembrokeshire Frame, until we could move into our own premises in May 2019.Since opening our doors, we have already helped over 100 children and their families through the most trying of times, supported by the generosity of our fundraisers and volunteers. We have a new home in Milford Haven at Europa House where we run our charitable operation is based.
A special mention goes to all our supporters and in particular, to Valero, whose assistance through their Charity of the Year programme was pivotal to the charity being able to function and support so many vulnerable children and families.
Lee joined Sandy Bear in 2023 and brings with him experience of working within statutory and voluntary sector organisations in areas including health and social care, Public Health and community and youth development. With a passion for supporting people, projects and organisations, Lee is looking forwards to embedding the organisation and its provision in areas where it can have the biggest impact.
Lee's experience of bereavement and ability to empathise with our work stems from his own experience of loss as a child of several significant people in his life. He hopes that experience, coupled with knowledge of work with diverse groups of people over the years, offers a good foundation for working with Sandy Bear.
Outside of work, Lee is (very slowly) renovating a tired old cottage. He enjoys time in the garden and walking his trio of hounds around the peaks and troughs of Snowdonia with his long-suffering husband (usually finding a few local pubs with decent real ale along the way).
Anita Hicks - SEN RGN Dip Pal Care BSC Honours
Anita is one of the founding members and joint Clinical Lead for Sandy Bear Children's Bereavement Charity. Anita's longstanding experience has been developed over a career in nursing spanning five decades, previously working for the NHS for 40 yrs. She was instrumental in the early development of cancer and palliative care services. Anita was also responsible for commissioning hospital-based Macmillan Nurse's which sparked her interest in supporting children whose parents have a life limiting condition.
She later went on to complete her degree in public health nursing where she looked at the way children and young people were supported in the community following bereavement.
She enjoys sharing her knowledge through conferences and seminars and empowering others to support bereaved children and families in their community.
Anita has been married for over 40 years and enjoys travelling (with a fascination for New York) and caravanning. She has six children, three of her own and three that she brought up as her own following the death of a close friend.
Karen is one of the founding members and joint Clinical Lead for Sandy Bear Children's Bereavement Charity.
Karen has a wealth of experience with working with families who have suffered a bereavement; she supported many families following the sudden and often traumatic death of a loved one during her career in A&E as a senior staff nurse, a post she held for over 30 years.
In 1989, she and a friend set up the Pembrokeshire Cot Death Support Group which involved supporting parents whose baby had died from cot death. Her other bereavement roles have included working as an immediate family support worker for 2 Wish Upon a Star and also running their monthly parents support group. Karen also worked for Sandy Bear from 2006 until it was decommissioned but never lost her enthusiasm for helping bereaved children and their families.
Karen also gives freely of her spare time to the charity and regularly gives talks to local community groups about the work of the charity. She has been instrumental in setting up Sandy Bear as a stand alone charity.
Hannah Beer - BA (Hons), PGCE
Marketing, Events and Volunteers Manager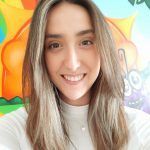 Hannah joined the Sandy Bear team in May 2021 after wanting to pursue a new career with the intention to continue to support children and young people. Hannah feels passionate about giving children and young people the opportunity to be the best they can be throughout their lives. Hannah experienced the bereavement of a parent at a young age and, despite not receiving the services of Sandy Bear personally, she supports and acknowledges the importance of the work carried out by the charity.
After carrying out work experience within educational settings during her A Levels, Hannah went on to do a degree in Education Studies at the University of Gloucestershire. Upon completion of her degree, she completed a Primary PGCE in Gloucestershire. She then moved back to Pembrokeshire where she worked as a supply teacher until the Covid-19 pandemic hit. With a love of learning, Hannah continues to seek ways to develop herself professionally and is currently enrolled on a Welsh Language evening course.
In her spare time, Hannah enjoys attending fitness classes and walking. Her interests also include breaks away with her husband, Josh, as well as attending concerts and festivals. She has a lot of love for animals and shares her home with two Cavapoos, Buddy and Barney, and two cats, Bangs and Bertie.
Assistant Head of Service
Dawn joined the Sandy Bear team in March 2022. She previously volunteered for the charity (many years ago) and has worked with children, young people and their families for the majority of her career. Dawn worked for Hywel Dda University Health Board for 24 years and has spent the last five years working as a Palliative Care Play Specialist where she was able to gain the trust and respect of those she worked with and built-up relationships quickly.
 Dawn has lived in Pembrokeshire all of her life and enjoys exploring new places and going for weekends away with her husband and children, whom she adores. She also loves going for walks on the beach with her three miniature dachshunds, Ruby-Tuesday, Stella-Artois and Dixie-Lee.
Janine joined the Sandy Bear team in February 2022 after enjoying a successful carrier as a Community Nursery Nurse with the Hywel Dda Health Board for 18 years. As part of her previous role, Janine supported children and families with any issues which they had – particularly around developmental issues, emotional health and wellbeing, behaviour and parenting. She also has lots of experience of working with children with additional learning needs.
Janine has had a lot of experience working with bereaved children, young people and families. This experience helped her within her previous volunteering and trustee role at Sandy Bear which began in 2006. When she was an infant, Janine lost her mother. She strongly believes that others can benefit from her life experience of losing a parent at a very young age and wants to share this experience with those in need.
In her spare time, Janine is an active member of the local Amateur Dramatics Society and enjoys baking, walking and travelling with her husband.
Jenna Swenson, BSc (Hons)
Jenna joined the Sandy Bear team in July 2022. Jenna worked within education settings for over 10 years in various roles and has worked with children and young people for over 14 years. She completed her degree, BSc Psychology in Education, at the University of York and then went on to work as a Well-being and Inclusion officer to support children with additional learning needs. Jenna feels that the well-being and happiness of children is paramount and feels privileged to be able to further support children at Sandy Bear.
Jenna grew up in Pembrokeshire and is a fluent Welsh speaker. After university, she moved back to Pembrokeshire and now lives here with her wonderful husband, two little girls, dog (Max) and cat (Nala). She loves nothing more on the weekends to cook delicious food for her family and play on the beach.
Lee joined the Sandy Bear team in August 2023, having volunteered for the charity for the past four years. She has worked with children and young people of all ages in various roles for nearly thirty years, having been a childminder and LSA before beginning a career teaching English at secondary level, in 2005.
Lee's connection with Sandy Bear began when her own family received invaluable support from the service following the death of her niece. As a teacher she also saw the positive impact Sandy Bear's involvement had on grieving pupils. Lee feels privileged to be able to work with and support bereaved children, young people and their families.
Originally from Manchester, Lee has lived in Pembrokeshire since 1977. She and her husband have three daughters and a grandson. Alongside time spent with her family she enjoys walking, reading, watching cricket and singing in a community choir.
Volunteers play a crucial role in the delivery and development of Sandy Bear.
Our service is evidence-based and professional led but it is largely supported by a dedicated group of volunteers, who make our work possible. The time that our volunteers provide to children, young people and families makes a huge difference in their bereavement journey.
We are fortunate to have a great team of volunteers who provide their time for a variety of reasons – because of lived experience, to learn new skills or simply to give something back to a cause that they can feel passionate about.
When we talk to our volunteers about why they keep coming back, they tell us it allows them to:
Make a big difference in the life of a child or young person and their family

Meet new people and become part of a special community

Develop new skills, especially in coping with bereavement

Have fun

Help others and to feel that this is making a positive impact

Gain experience and a new perspective
Vulnerable people need to be protected so all our volunteers are DBS checked, and will have undergone a training programme where they commit three days over three months. They will also commit to a day of safeguarding training.
To support group, each volunteer will need to commit to six support sessions which last 4 hours and happen (usually) on a fortnightly basis. Children will often form a bond with our volunteers over the course of the sessions so we insist that our volunteers can give this time before committing to group support.
There are many other ways to volunteer – we need help at events and in the office and are always open to discussing other ways in which our volunteer community can support us.
For further information, please click the link to see our live volunteering opportunities.
If you have a skill that you think we need and want to discuss further, please contact us via the contact page – we very much look forward to hearing from you.