Children's Bereavement Charity
Sandy Bear is a  registered charity providing a service to all children and young people up to 18 years who have suffered, or who are likely to suffer a bereavement and live in Pembrokeshire.
We believe that every child and young person should have the opportunity to thrive and to be the very best that they can be. For some children and young people, the death of a loved one will turn their world upside down in an instant, leaving them bereft.
Sandy Bear is a not-for-profit charity dedicated to improving and strengthening the emotional health and well-being of young people aged 0-18 (and their families), who have experienced the death of a loved one. We aim to reduce emotional difficulties in childhood and the prevalence of mental illness in later life that can result in a decreased quality of life, poorer educational attainment, social and health problems and increased vulnerability.
We achieve this by working closely with children, young people and families to support them through their grief, and by educating relevant professionals to know what to do when they are dealing with bereavement.
Welsh Government Pilot Project
Sandy Bear Children's Bereavement Charity supporting children and young people affected by death of a loved one through suicide
Sandy Bear Children's Bereavement Charity has been awarded funding by Welsh Government to launch a pilot project into Ceredigion and Carmarthenshire to support children and young people who are suffering following a bereavement through suicide. Read More…
We hold groups for teenagers as well as for children and their parents or carers to encourage the sharing of experiences with others in similar circumstances. Our groups encourage members to share their stories, express a range of feelings and better understand their grief through taking part in practical and creative activities.
Parents, Guardians and Carers
We offer tailored advice and support to meet each family's needs on an individual basis, which includes face-to-face meetings, regular telephone access to our staff and signposting to other agencies. We also provide a range of resources to support children and young people when someone important in their life has died.
We help those who encounter bereaved children and young people to provide the most appropriate support. We offer bespoke training around grief and bereavement and the impacts this can have on emotional health and well-being of children, young people and their families. We also have a wide range of literature that will help professionals in their work.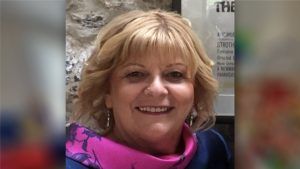 Andrea Farmer, current Treasurer of Sandy Bear, became involved with...
Read More
Isobel Hall, current Chair of Sandy Bear, became involved with...
Read More
Lily Rice, Women's WCMX World Champion and GB para swimmer,...
Read More
A children's bereavement charity in Pembrokeshire has been nominated by...
Read More
My granddaughter was 3 years old when her dad died…she couldn't understand why she couldn't see her daddy but thank goodness for Sandy Bear, she attended and made things to remind her of her Dad. Even as a teenager, she asked to go back to Sandy Bear and this helped her deal with it. She asked a lot of questions and made friends with other in the same situation as her. Without Sandy Bear, I think she would have stayed unconfident and shy, they have helped her so much, she is…a very confident and happy young lady.
The service meant so much and helped the boys to prepare and think about life once mum was gone. They benefitted so much from the sessions, without which they wouldn't have been able to open up as much and I feel that even though it was truly devastating for us all when Mum passed, the sessions helped the boys to remember the good times.