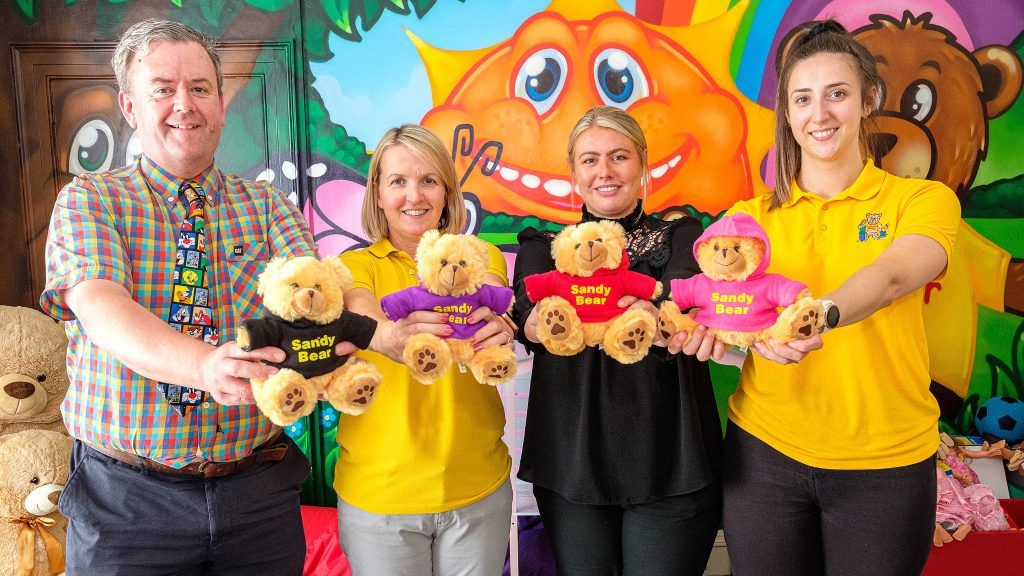 A children's bereavement charity in Pembrokeshire has been nominated by staff from National Grid Electricity Distribution to receive a charity donation – and a follow up visit!
Sandy Bear Children's Bereavement Charity was chosen by members of National Grid's West Wales team to receive the donation of £1,000. Team Manager Mark Phillips and Team Support Gemma Amos met with Sandy Bear staff to learn more about the work they do to support young people who have suffered the loss of a loved one.
Mark said: "It really was a pleasure to meet the team and learn how they can help through so many ways; memory boxes, counselling, sharing of experiences, encouraging expression of thoughts and feelings through arts and crafts. The large number of children and relatives they have helped is amazing, truly a humbling experience to hear what they do."
The donation was made as a result of an internal incentive scheme.
National Grid's West Wales Distribution Manager Ryan Davies added: "Sandy Bear was chosen as it is a beacon of light for children who are experiencing difficult times. With our donation we hope that it allows them to continue their fantastic work which provides that much needed support."
During the past 12 months, Sandy Bear has supported 312 children and young people. 
Karen Codd, Clinical Lead and Co-Founder at Sandy Bear, said: "We are delighted to have been nominated to receive £1,000 from National Grid. We have been approached by a number of professionals who would like to increase their skills and knowledge when working with bereaved children and young people. This donation will allow us to purchase resources to deliver training sessions to at least 30 professionals within Pembrokeshire. These sessions will equip them with the skills to increase their confidence to have open and honest conversations when they are needed the most."
Picture shows (left to right): Mark Phillips (National Grid), Janine Lewis (Sandy Bear), Gemma Amos (National Grid) and Hannah Beer (Sandy Bear)